Happy Lunar New Year 
Xin Nian Kuai Le 新年快乐 ! Happy Chinese New Year everyone! I thought of writing a special newsletter for Chinese New Year in 2021, the year of the Metal Ox! Usually during this time, I would go with my Kung Fu school to perform the lion dances around NYC Chinatown. We would perform the dances with live music throughout the city rain or shine! Of course, with the current situation there will be no celebration this year but I would still like to commemorate the occasion!
Chinese New Year is a time for families to all gather, cleanse the home of the old stale energy, and welcome in the spirit of the new year… while eating a huge feast. The festivities usually last a full week as entire cities shut down to commemorate the new year. Usually, it is good luck to wear red during this time to bring in wealth and prosperity to your household.
Did you know…the Ox is known for its stability and steadfastness. It is the sign that symbolizes that hard work does pay off.  It is the year where putting in the effort will reap the rewards in the future. The heavy metal element from this year represents authority but can be offset by lots of greenery. So get those plants all around the house!
This is a fun picture from 2018 when I performed one of my forms for my Kung Fu school. I surely do miss going up there and seeing my Kung Fu brothers and sisters. Hopefully, the celebration will be even bigger next year!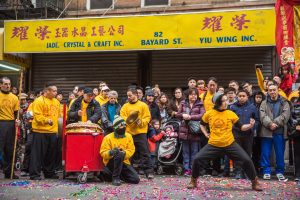 Photo by Felicity Lo Photography
Reading Corner
Chinese Medicine: The Spark in the Machine by Daniel Keown
Some of you have asked about resources to read more about Chinese Medicine. The Spark in the Machine is a great book to gain a basic understanding and foundation of Chinese Medicine. The author does a good job of making simple analogies between concepts such as channel theory back to Western physiology.
Giving Back
Germantown Help Food Drive… For my birthday month (March), I am doing a food drive to help families around the Germantown area. I will have a box for anyone to drop off food items to be donated in the clinic. Items can be dropped off during appointments or during office hours. I would greatly appreciate it and I will donate the items by mid-March!
What they mainly need… is peanut butter, jelly, mac & cheese, and cereal. Tuna/canned meat and soup items are also great choices.
I am always so grateful for what I have and wanted to find ways to give back because my mother instilled in me that giving back will always benefit the whole community. The pandemic has been so difficult for some families and these donations help with just simple needs of putting food on the table for their families. Thank you in advance for any donations!
Stay well, stay healthy, and stay safe. Much love to you all!
To ours and in Health,
Dr. Khanita Suvarnasuddhi