HOW TO ORDER:
– Click Buy Now and follow the steps shown! Shipping only within the US.
POTENTIAL POWER NUTRITION
HOW TO ORDER:
– Enter affiliate code KS002 at checkout for 10% off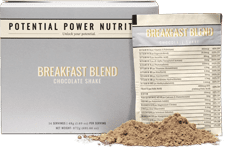 A decadent, smooth vegan chocolate shake that is free of major allergens.  With less than half the sugar content of an apple, the same amount of fiber as a slice of whole wheat toast and a low glycemic index, it's easier than fixing a breakfast from scratch and more convenient than a cabinet full of vitamins and supplements.
HOW TO ORDER:
– Clicking on a product (below) will open the Kamwo website in a new browser window
– After reviewing a product on Kamwo, you'll have to return to the open Araya tab in order to select another recommended product
– That product will open a new Kamwo window, and any previous items you Added-to-Cart will be in your Shopping Cart in the new window.
– I apologize if this is confusing! Please email me if you need any help with the ordering process: Info@ArayaAcupuncture.com
Kamwo Tooth from the Tiger's Mouth Line – Some of my favorite "hits" from this line for when you get hurt.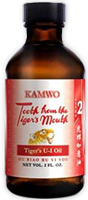 Tiger's Brand U-I oil can be used for muscle soreness and tension in the low back or neck area. This is my go-to oil in clinic as it helps with reducing tightness and relieving pain. It can be rubbed on and moist heat can be put on top as well.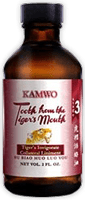 Tiger's Invigorate Collaterals Liniment is specifically designed for wind, cold, and damp that lodge in the joints, causing stiffness and pain – Bi Syndrome. This formula includes vine medicinals, like Ji Xue Teng and Ren Dong Teng, which are traditionally used for joint pain, because they open the channels and collaterals, free restrictions in the sinews, and dispel wind and dampness.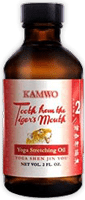 Yoga Stretching Oil is rubbed into muscles and joints before and after activities like Yoga, or other stretching routines, so that the muscles and fascia more easily adapt to training, thereby increasing and maintaining suppleness and flexibility. I love using this formula when I feel that my calves are too tight and start to cramp up. Clinically it is often used for joint pain that is accompanied by tight, bound muscles.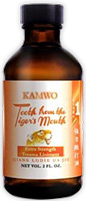 Extra Strength Trauma Liniment (Qing Li Die Da Jiu) is the number one liniment for bruises, contusions, sprains and fractures. This extra strength Die Da recipe is renowned for its ability to kill pain, reduce swelling and break stasis.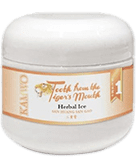 This is a MUST have in your first aid kit for sprained ankles that swell up or any area that gets injured. This is essentially herbal ice that helps reduce swelling, pain, redness and heat. It will clear the inflammation while simultaneously reducing swelling and dispelling stasis. Herbal Ice should only be used until the initial inflammation, heat and swelling are gone or significantly reduced. It is not for long-term use.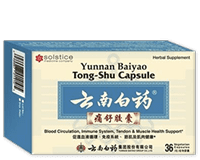 Another one of my favorite herbal products that I use frequently in the clinic for anyone healing from a head injury, wound healing or post-op pain. Yunnan Baiyao Tong-Shu Capsule is an all-natural herbal supplement. The herbal ingredients in this product have been used over one hundred years by herbalists and acupuncturists in China to help promote healthy blood circulation.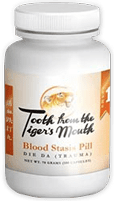 This is another herbal must have in your first aid kit after an initial injury. Blood Stasis Trauma Pill is an all-purpose internal formula for sprains, strains, contusions and fractures, with blood stasis (swelling, bruising and localized pain). Generations of martial arts practitioners have used the Blood Stasis Trauma Pill (Huo Xue Die Da Wan) to clear blockages of Qi, blood and fluids that have accumulated at the site of an injury.
External Plasters for Pain 
These are my go-to plasters for any kind of low back pain, stiffness or upper back tightness. This is my favorite thing to use when I tweak my back. For cool, soothing, temporary relief of minor aches and pains of muscles and joints associated with simple backache, arthritis, sprains, bruises, and strains.